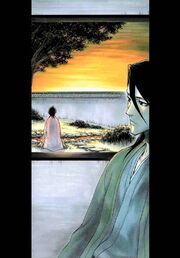 ByaHisa
(Japanese: 緋真,
ByaHisa
) is the name of the romantic relationship between
Byakuya Kuchiki
and
Hisana Kuchiki
. It is considered one of the few canon pairings as prior to the storyline both of them are married to each other. It is clearly shown that Byakuya was in love with Hisana as otherwise he would not marry her as she was of lower staus. 
External Links
Edit
References
Edit
Ad blocker interference detected!
Wikia is a free-to-use site that makes money from advertising. We have a modified experience for viewers using ad blockers

Wikia is not accessible if you've made further modifications. Remove the custom ad blocker rule(s) and the page will load as expected.